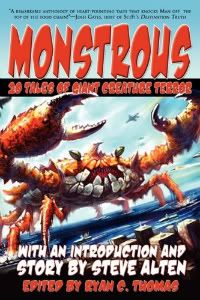 Monstrous: 20 Tales of Giant Creature Terror
edited by Ryan C. Thomas and featuring tales by Steve Alten, Guy N. Smith, and others
is now available for purchase from many stores including:
*
Permuted Press
- Free shipping on any 2 or more books!
*
Amazon US
*
Amazon UK
*
Amazon Canada
*
Amazon.de
*
Barnes & Noble
*
Many Others
Move over King Kong, there are new monsters in town! Giant beetles, towering crustaceans, gargantuan felines and massive underwater beasts, to name just a few. Think you've got what it takes to survive their attacks? Then open this baby up, and join today's hottest authors as they show us the true power of Mother Nature's creatures. With enough fangs, pincers and blood to keep you up all night, we promise you won't look at creepy crawlies the same way again.
"Big, big, big entertainment! The era of the big monster has returned with fury in every

Monstrous

page!"
--J.L. Bourne, author of DAY BY DAY ARMAGEDDON