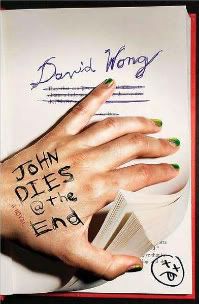 The new Thomas Dunne hardcover edition of
John Dies at the End
by David Wong (formerly from Permuted Press) is
up for pre-order on Amazon
. If you missed out on this cult classic the first time around be sure to pick this edition up!
About
John Dies at the End
It's a drug that promises an out-of-body experience with each hit. On the street they call it Soy Sauce, and users drift across time and dimensions. But some who come back are no longer human. Suddenly, a silent otherworldly invasion is underway, and mankind needs a hero. What it gets instead is John and David, a pair of college dropouts who can barely hold down jobs. Can these two stop the oncoming horror in time to save humanity? No. No, they can't.
John Dies at the End
has been described as a "Horrortacular", an epic of "spectacular" horror that combines the laugh out loud humor of the best R-rated comedy, with the darkest terror of H.P. Lovecraft. Hilarious, terrifying, engaging and wrench ing,
John Dies at the End
takes us for a wild ride with two slackers from the Midwest who really have better things to do with their time than prevent the apocalypse.