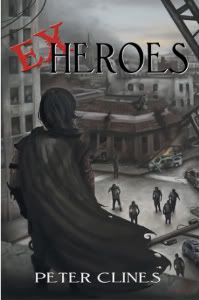 Peter Clines' new novel
Ex-Heroes
is now available from Permuted Press.
Ex-Heroes
takes an original cast of superheroes and drops them into a post-apocalyptic world overrun with the living dead. James Melzer, author of
Escape
, calls it "one of the best genre blenders I have ever read."
Find it in many stores including:
*
Permuted Press
- Free shipping on any 2 or more books!
*
Amazon US
*
Amazon UK
*
Amazon Canada
*
Barnes & Noble
*
Many Others

I'm pretty sure you already know who I am. As for everyone else... I don't think there are enough people left to make a secret identity worth the effort.
Stealth. Gorgon. Regenerator. Cerberus. Zzzap. The Mighty Dragon. They were heroes. Vigilantes. Crusaders for justice, using their superhuman abilites to make Los Angeles a better place.
Then the plague of living death spread around the globe. Despite the best efforts of the superheroes, the police, and the military, the hungry corpses rose up and overwhelmed the country. The population was decimated, heroes fell, and the city of angels was left a desolate zombie wasteland like so many others.
Now, a year later, the Mighty Dragon and his companions must overcome their differences and recover from their own scars to protect the thousands of survivors sheltered in their film studio-turned-fortress, the Mount. The heroes lead teams out to scavenge supplies, keep the peace within the walls of their home, and try to be the symbols the survivors so desperately need.
For while the ex-humans walk the streets night and day, they are not the only threat left in the world, and the people of the Mount are not the only survivors left in Los Angeles. Across the city, another group has grown and gained power.
And they are not heroes.
"Combining pop culture, superheroes and zombies, EX-HEROES is not to be taken lightly. One of the best genre blenders I have ever read."
--James Melzer, author of ESCAPE

"Clines' EX-HEROES merges superheroes and zombies in a way never before conceived. This is what happens to heroes when the sexy allure and secret identities are stripped away and all that's left are people who failed to save the world as it collapsed around them. Ex-Heroes will have you gripping the book and reading late into the night, when you know no heroes will save you."
--Mur Lafferty, author of PLAYING FOR KEEPS