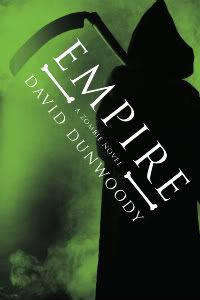 Empire
--the latest joint release from Permuted Press and Simon & Schuster--is now available. When the dead start rising, the Reaper is pissed! Find it in many online and offline bookstores including:
*
Permuted Press
*
Amazon US
(currently $10.20)
*
Amazon UK
*
Amazon Canada
*
Barnes & Noble
(currently $10.80)
*
Borders
*
Kindle
($9.99)
*
Nook & Other eBook Formats
($9.99)
*
Many Others
"EMPIRE is one hell of a post-apocalyptic joy ride... Treat yourself to all the weird and wonderful things Dunwoody has to show you, because you will not be disappointed."
--Skull Ring
About the book:
The year is 2112.
The crippled U.S. government and its military forces are giving up the century-long fight against an undead plague. Born of an otherworldly energy fused with a deadly virus, the ravaging hordes of zombified humans and a nimals have no natural enemies. But they do have one supernatural enemy: Death himself.
Descending upon the ghost town of Jefferson Harbor, Louisiana, the Grim Reaper embarks on a bloody campaign to put down the legions that have defied his touch for so long. He will find allies in the city's last survivors, and a nemesis in a man who wants to harness the force driving the zombies—a man who seeks to rebuild America into an empire of the dead.
Hailed as "A MACABRE MASTERPIECE OF POST-APOCALYPTIC ZOMBIE GOODNESS" on the Library of the Living Dead podcast, Empire brings stunning new twists to a shattering and unforgettable scenario of the not-too-distant future.