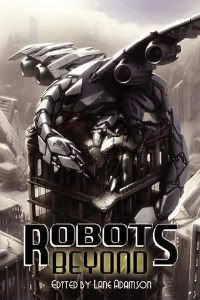 Robots Beyond
edited by Lane Adamson and featuring tales by David Dunwoody, William D. Carl, R. Thomas riley, and others is now available for purchase from many stores including:
*
Permuted Press
- Free shipping on any 2 or more books!
*
Amazon US
*
Amazon UK
*
Amazon Canada
*
Amazon.de
*
Barnes & Noble
*
Many Others
Robots. Intelligent machines, usually bearing at least some resemblance to humans, performing the routine drudgeries of life and freeing mankind for the pursuit of nobler goals. Karel Čapek conceived the term. Isaac Asimov codified their behavior, then spent the next fifty-plus years figuring out ways to get around his rules. Phillip K. Dick humanized them, chillingly. George Lucas and James Cameron, for good or ill, made them pop culture icons. Within these pages, you'll meet robots both familiar and fantastic, from the submicroscopic to large, carnivorous machines. Robots discovering their own humanity... and Man's inhumanity. Subversive inversions of genre that will leave the reader pondering the metaphysics of robotics. What if? There's a lot to answer for in those two little words. Look inside, and see what you discover. Featuring:
1. Thom Brannan / Electric Crown
2. Billy Wong / The Last Protector
3. Ren Holton / Franchise Hell
4. Paula R. Stiles / Burning Down the House
5. J. A. Lynn / Tinman
6. William D. Carl / Crocus
7. Alastair Bishop / Narrative Device
8. David Dunwoody / Other Dreams
9. Joshua Reynolds / The Strange Affair of the Artisan's Heart
10. R. Thomas Riley / Surveillance
11. Richard Mosses / Primero
12. Christopher Donahue / The Cure
13. Mark Patrick Lynch / Hothead
14. John W. Oliver / How Coyote Made Robot
15. Joel A. Sutherland / Again, Iabrochium
16. Lane Adamson / Be Swift, My Soul
17. Matt R. Jones / A Robot Named J35U5
18. Matthew Baugh / Nano-Domini
19. Douglas P. Wojtowicz / Are You Lonesome Tonight?