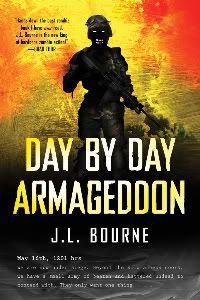 The new Permuted Press/Pocket Books edition of J.L. Bourne's bestselling zombie novel
Day by Day Armageddon
is now available for purchase from many offline and online stores including:
*
Amazon US
*
Amazon UK
*
Amazon Canada
*
Borders
*
Barnes & Noble
*
Powell's
*
Many more...
START INTERCEPT
SPORADIC NEW REPORTS INDICATE CHAOS AND VIOLENCE SPREADING THROUGH U.S. CITIES. AN UNKNOWN EVIL IS SWEEPING THE PLANET. THE DEAD ARE RISING TO CLAIM THE EARTH AS THE NEW DOMINANT SPECIES IN THE FOOD CHAIN.
INTERCEPT COMPLETE
SURVIVOR,
In your hands is the handwritten journal depicting one man's struggle for survival. Trapped in the midst of global disaster, he must make decisions; choices that ultimately mean life, or the eternal curse to walk as one of them.
ENTER IF YOU WILL INTO HIS WORLD. THE WORLD OF THE UNDEAD.
"DAY BY DAY ARMAGEDDON is hands down the best zombie book I have ever read.
"
--Brad Thor, #1 New York Times Best Selling Author